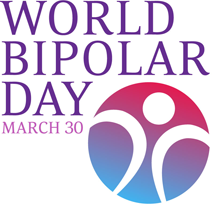 WBD in the COVID-19 Pandemic: experience from China
Jun Chen
Shanghai Mental Health Center, Shanghai Jiao Tong University School of Medicine, Shanghai, China
Background
COVID-19 is not only a global public health crisis, it also completely changed our social life. People are required to keep a social distance during this great pandemic. Mental health services, together with the mental health academic activities on public education, were limited.
China was the first country facing the COVID-19 pandemic directly. On January 23rd, the local government announced that Wuhan city was shut down. After that, other cities in China also kept a strict quarantine. In such a difficult situation, it looked like the 2020 World Bipolar Day (WBD) activities would hit a dead end.
Challenge and Chance
In China, we have an old phrase which is about how to treat a crisis. The Chinese word 'crisis' is made up of two characters: danger and opportunity. This is the way Chinese psychiatrists dealt with the 2020 WBD.
Since 2016, when the Chinese psychiatrists first started WBD in China, online education has been part of our method to facilitate public education. From our experience, the free on-site clinics are one of the routine activities of WBD, to help more people understand bipolar disorders. But due to COVID-19, patients and their family members had difficulties in joining the on-site free clinics, and part of the mental health service was moved online. Fortunately, pharmaceutical companies, media, and online medical companies had a passion for continuing the 2020 WBD in China, which we had already discussed in 2019.
WBD 2020 China
Launched by the International Society of bipolar disorder-China (ISBD-CHN), together with the Chinese Society of Psychiatry (CSP) Youth Council, the Task Force on Bipolar disorders, Chinese Psychiatrists Association (CPA) Task Force on Bipolar and related disorders, the 2020 WBD was carried out as planned. Under the leadership of Dr. Jun Chen and the primary center, the Shanghai Mental Health Center, many partners joined the 2020 WBD, including JingDong Health (one of the biggest online health service companies in China), Sanofi China, Luye Pharma Group, Jiangsu Nhwa Pharmaceutical Company, Lily China, YXJ (one of China's leading medical information websites), and Bipolar World (Network We-media).
During WBD, we prepared a series of activities, including public education, international and domestic online meetings, and live broadcasts for enhancing public education on bipolar disorders. We also prepared nice short videos and promotional materials of popular science; these formats are welcomed by the Chinese.
The series activities started with the online public education symposium called 'Getting to know bipolar disorder'. After that, an online academic symposium called 'Clinical identification and management of patients with bipolar disorder' was held during the lunchtime. In the afternoon, eight online meetings from different areas of China were carried out simultaneously, which also included public education and continuing medical education by local experts.
The International online academic meeting was held during the afternoon. Four experts from China (Yiru Fang, Tiebang Liu, Yantao Ma, and Jun Chen), one from England (Allan Young), and the ISBD president (Gin Malhi) gave Chinese psychiatrists an excellent academic feast. The last activity of the evening was a live broadcast, Cross-border communication topic entitled 'Understanding bipolar disorder and eliminating discrimination' presented by psychiatrists, psychologists, and media professionals.
With everyone's effort, the 2020 WBD in China was a huge success. This is the biggest WBD event in Chinese history going back to 2016, not only because numerous academic societies and companies participated, but the event also attracted the most significant attendance from the general public to date. As of April 4th, the WBD Chinese homepage on Sina pageviews was over 583,600. Others, like Toutiao, were over 115,600, direct Weibo was over 1,551,000, and transmit Weibo was over 879,000.
Summary
There are some valuable lessons from our 2020 WBD, which may be helpful for other countries and areas to host WBD in the future.
First, the pandemic changed our life; therefore, we should consider changes to traditional public education. Online programs are not only helpful for public education, but also have the potential to deliver valuable online mental health services.


Second, public education is the most important aspect of WBD to promote understanding and treatment of bipolar disorders and eliminate discrimination. Any methods which can enhance the interaction between professionals and the public are welcomed.


Last, but not least, forge partnerships wherever possible. WBD is not only for psychiatrists or patients. It is a great day for all people to join in, including the patients' family and friends, healthy people, and other professionals. The secret ingredient that made the 2020 WBD such a great success was inviting many different stakeholders to join in.