ISBD Best Paper of the Year Award
The International Society for Bipolar Disorders recognizes and promotes the most highly regarded manuscripts published in our journal, Bipolar Disorders, each year with the Best Paper of the Year Award. First presented in 2015, the Award reflects the exceptional work of the winners as well as the quality and reputation of the journal.

In a collaboration between ISBD and Bipolar Disorders, papers are evaluated by a panel of judges selected by the leadership of both organizations under the auspices of the ISBD Awards Committee. The authors of the top three manuscripts—a winner and two runners up—are recognized during the ISBD Awards Ceremony at our annual conference.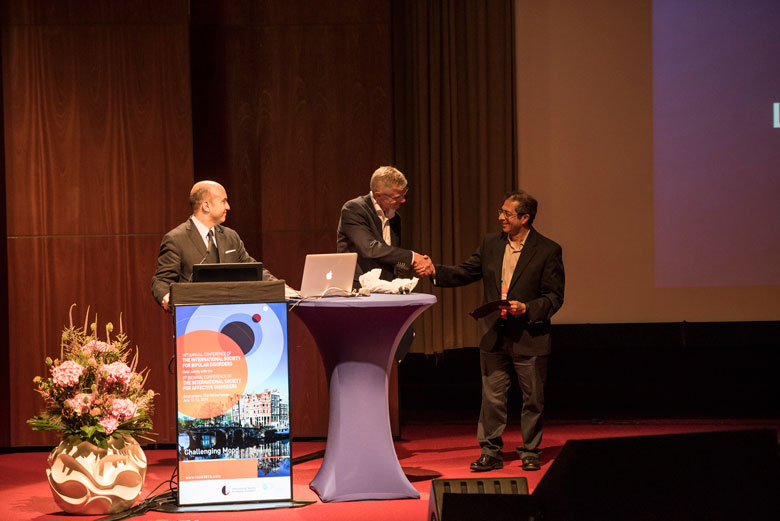 2019 Winners:
1st Place - Neuropsychological effects of multiple mood episodes on bipolar disorder
Logan Borgelt, Stephen M Strakowski, Melissa P DelBello, Wade Weber, James C. Eliassen, Richard A Komoroski, Wen-Jang Chu, Jeffery A Welge, Thomas J Blom, Emily Rummelhoff, Maxwell Tallman, Jing-Huei Lee, Caleb M Adler
https://doi.org/10.1111/bdi.12782
2nd Place - Functional outcome assessment in bipolar disorder: A systematic literature review.
Maxine Chen, Heather M. Fitzgerad, Jessica J. Madera, Mauricio Tohen
https://doi.org/10.1111/bdi.12775
3rd Place - Differences between unipolar mania and bipolar-I disorder: Evidence from nine epidemiological studies.
Jules Angst, Wulf Rossler, Vladeta Ajdacic-Gross, Felix Angst, Hans Ulrich Wittchen, Rosalind Lieb, Katja Beesdo-Baum, Eva Asselmann, Kathleen Merikangas, Lihong Cui, Laura H Andrade, Maria C Viana, Femke Lamers, Brenda WJH Penninx, Taiane de Azevedo Cardoso, Karen Jansen, Luciano Dias de Mattos Souza, Ricardo Azevedo da Silva, Flavio Kapzinski, Christoffel Grobler, Mehdi Gholam-Rezaee, Martin Preisig, Caroline L Vandeleur
https://doi.org/10.1111/bdi.12732
2018 Winners:
1st Place - Adjunctive probiotic microorganisms to prevent rehospitalization in patients with acute mania: A randomised controlled trial
Faith Dickerson, Maria Adamos, Emily Katsafanas, Sunil Khushalani, Andrea Origoni, Christina Savage, Lucy Schweinfurth, Cassie Stallings, Kevin Sweeney, Joshana Goga, Robert H Yolken
https://onlinelibrary.wiley.com/doi/abs/10.1111/bdi.12652
2nd Place - Episode forecasting in bipolar disorder: Is energy better than mood?
Abigail Ortiz, Kamil Bradler, Arend Hintze
https://onlinelibrary.wiley.com/doi/abs/10.1111/bdi.12603
3rd Place - Altered frontal-amygdala effective connectivity during effortful emotion regulation in bipolar disorder
Liwen Zhang, Esther M Opmeer, Lisette van der Meer, André Aleman, Branislava Ćurčić‐Blake, Henricus G Ruhé
https://onlinelibrary.wiley.com/doi/abs/10.1111/bdi.12611
2017 Winners:
1st Place - Step-wise loss of antidepressant effectiveness with repeated antidepressant trials in bipolar II depression
Jay D Amsterdam, Lorenzo Lorenzo-Luaces, Robert J DeRubeis
http://onlinelibrary.wiley.com/doi/10.1111/bdi.12442/full

2nd Place - Blue-blocking glasses as additive treatment for mania: a randomized placebo-controlled trial
Tone EG Henriksen, Silge Skrede, Ole B Fasmer, Helle Schoeyen, Ieba Leskauskaite, Jeanette Bjorke-Bertheussen, Jorg Assmus, Borge Hamre, Janne Gronli, Anders Lund

http://onlinelibrary.wiley.com/doi/10.1111/bdi.12390/full


3rd Place - Anti-inflammatory agents in the treatment of bipolar depression: a systematic review and meta-analysis
Joshua D Rosenblat, Ron Kakar, Michael Berk, Lars V Kessing, Maj Vinberg, Bernhard T Baune, Rodrigo B Mansur, Elisa Brietzke, Benjamin I Goldstein, Roger S McIntyre

http://onlinelibrary.wiley.com/wol1/doi/10.1111/bdi.12373/full