ISBD Best Paper of the Year Award
The International Society for Bipolar Disorders recognizes and promotes the most highly regarded manuscripts published in our journal, Bipolar Disorders, each year with the Best Paper of the Year Award. First presented in 2015, the Award reflects the exceptional work of the winners as well as the quality and reputation of the journal.

In a collaboration between ISBD and Bipolar Disorders, papers are evaluated by a panel of judges selected by the leadership of both organizations under the auspices of the ISBD Awards Committee. The authors of the top three manuscripts—a winner and two runners up—are celebrated during the ISBD Awards Ceremony on the opening day of our annual conference.

ISBD actively promotes the award-winning manuscripts to its members and chapters as part of our dedication to offering high quality educational content. In an effort to increase exposure for these superb works, ISBD has arranged for the articles to be made freely available on the John Wiley and Sons website for up to one year from the Awards presentation.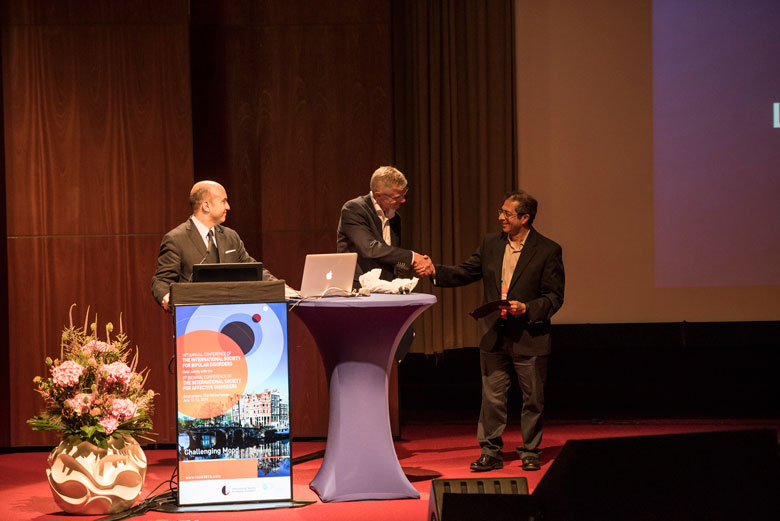 2017 Winners:
1st Place - Step-wise loss of antidepressant effectiveness with repeated antidepressant trials in bipolar II depression
Jay D Amsterdam, Lorenzo Lorenzo-Luaces, Robert J DeRubeis
http://onlinelibrary.wiley.com/doi/10.1111/bdi.12442/full

2nd Place - Blue-blocking glasses as additive treatment for mania: a randomized placebo-controlled trial
Tone EG Henriksen, Silge Skrede, Ole B Fasmer, Helle Schoeyen, Ieba Leskauskaite, Jeanette Bjorke-Bertheussen, Jorg Assmus, Borge Hamre, Janne Gronli, Anders Lund

http://onlinelibrary.wiley.com/doi/10.1111/bdi.12390/full


3rd Place - Anti-inflammatory agents in the treatment of bipolar depression: a systematic review and meta-analysis
Joshua D Rosenblat, Ron Kakar, Michael Berk, Lars V Kessing, Maj Vinberg, Bernhard T Baune, Rodrigo B Mansur, Elisa Brietzke, Benjamin I Goldstein, Roger S McIntyre

http://onlinelibrary.wiley.com/wol1/doi/10.1111/bdi.12373/full