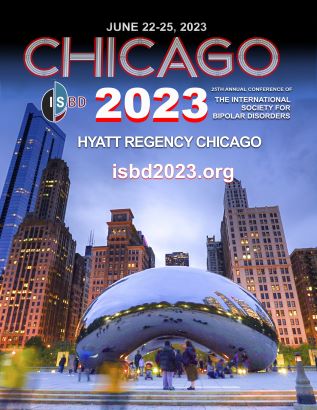 ISBD is pleased to invite you to the 25th Annual Conference of the International Society for Bipolar Disorders being held at the Hyatt Regency Chicago from June 22-25, 2023.
Like you, we have long awaited the return of the in-person ISBD Conference and we couldn't be more excited to hold this event in one of the premier cities in North America. Chicago boasts one of the best food scenes in the world with a multitude of award-winning restaurants, unbeatable arts and attractions, exciting nightlife, and miles of public green spaces as well as a sparkling lakefront and lively Riverwalk for you to enjoy. With two first class-airports that average over 1,100 daily flights, the city is easily accessible to our international delegation.
The conference venue, the Hyatt Regency Chicago (located at 151 E. Wacker Drive) is within walking distance of Navy Pier, Millennium Park, and the Magnificent Mile. It is a perfect setting for ISBD attendees to network and reconnect face to face.
ISBD is the leading international mood disorders conference focusing on bipolar disorders, major depressive disorders and other common co-morbid psychiatric conditions. It is a world-class platform for clinicians and scientists to present, discuss, and trade expertise in the most rapidly evolving area of psychiatry, mood disorders. Join other international scientists and clinicians to be a part of this unique opportunity to share cutting edge findings and network with distinguished experts in the field.
We look forward to seeing you in Chicago!
For more infromation, please visit the conference website www.isbd2023.org